To get into this years 4th?
Which next year's 3rd?
But probably not unless it's on draft day and the guy I really want is sitting there. That's the only time I'd make that phone call. Not before.
Probably not. We still have some holes but we will soon reach that spot where I value quality over quantity. Our day 3 picks will struggle to make the team. Unless Brad hits it out of the park with a Houston pick that is.
I'd like to see another year from the young guys before I know who needs to be replaced. Levi, I don't see making it, but maybe he surprises me. Need to see another year from Okudah. Can Houston continue to be a sack a game guy? If so, then damn, nice work. But yeah, I'll hold onto those picks until the picture is a little clearer.
No. I would do the opposite. This is a challenging draft with people having said it's 80 players deep vs say last year being 120 deep. I wouldn't be worried bc we got the staff and the scouts to find the gems. But if someone offers a pick next year for this year I'm taking the pick next year.
No.
A day 2 pick for a day 3 is not a good trade, especially since you're dropping more than 32 picks round over round, due to compensatory picks.
Negatory Red Rider.
Good thing we are currently set to have five picks in the top 85. I assume that some teams will pick a few guys outside of those 80 players like always and Brad can find his guys.
But in regards to trading a 3 for a 4 this year it really depends on who falls.
I would not, there are only 22 starting spots and I would be willing to bet we dont keep all 5 top 3 round picks already.
I hope we do something to add a 1st of 2nd round pick in 24
Only if its for Gabe Wright.
I would argue we need 2 cb, 1 safety, 1/2 lb, 1 dt, 1 wr, 1 rg, 1 rb… With probably 5 or 6 of them being starters. Obviously some of it will be addressed in free agency and some internal development will occur and remove a need potentially. Just hope they dont throw away the current year flexibility with the high draft capital just to add some resources that won't help this team till 2024 at the earliest. A small trade down in round 1 but still holding assets in this draft is what i would prefer to reducing our overall pick count.
I defended that trade. The draft was particularly deep that year according to several of the scouting sites. The 2nd round and 3rd round were chock full of talent, supposedly.
Anyhow, yeah… I'm done trading future year higher picks for current year lower picks like Barnes or any other.
Same.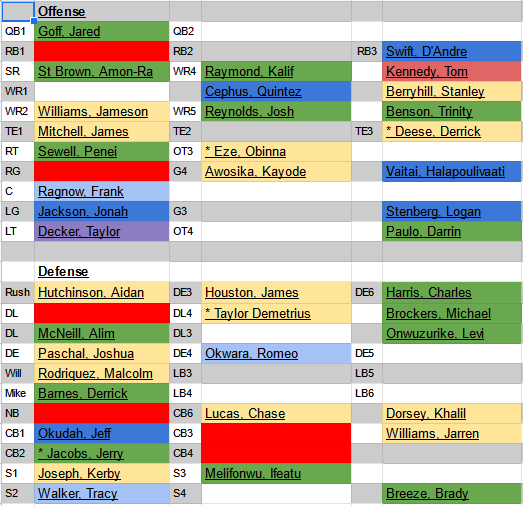 I held out some hope until @QBHATER90 said his knowledge of the situation is that his career is over.
I am sure that if he is trying to come back he will get the offseason to prove otherwise, but it wont stop the lions from signing or drafting over him on the depth chart.
Yeah i cant remember that ever working out for us. Coughgabe wrightcough. Barnes has the potential if he can learn the script and keep to his assignments. Right now his flash and mistakes are about even. Consistency keeps you on the field with Dan.
Barnes is actually one of the guys that if the light switch goes on and he has a good offseason he could 100% remove a need for a starter. The traits are there he has just been so raw from a play diagnosis perspective, though he did a lot better last year vs year 1.
Yes he did. But he was so inconsistent missing assignments that our coaches dont trust him yet. He needs to study study study!
So iffy, barnes, jamo, paschal and in a crazy turn of events jefferson all have an opportunity to fill a need with some internal development. At this point idk if they will elevate to full time starter but i at least believe 3 of them will continue to be role players.
For what player?
If say Jarret Patterson is sitting there at 104 and we still have a hole at IOL, sure. I think he's worth a 3rd. I'm fine with it being a 2024 3rd.
I know there has been some back and forth about this topic. I've heard from 2 people they are 99.9% positive Levi never plays for Detroit again. If they are wrong then so be it.
It depends. If Brad has decided to wait on RB or iOL and the guys he likes start to come off the board faster than he'd hoped, then yeah I could see a trade up. I'd hope personally for a better package than next year's 3rd, but if that's what it takes and Brad is convinced there's a player who would help immensely, I'd be OK with it.
If he's say 65-70 on your board and you have a need at that position then I think it's a no brainer.