…and given the fact that Brock Wright has developed into a savage defensive lineman-blocking, run after the catch bad ass TE, there's no need to draft another this year. The end.
Love it. Now if we could only get Carter to actually drop to 6 we'd be in Bidness!
Hyatt single-handed skewered Bama for 5 TD's. 5! That does not happen to a Nick Saban team featuring 2 NFL safeties and a top 60 CB. I'm with you guys. He's going to rise quit a bit when he runs in the 4.3s. I've been getting him in the low second round and feel he's a steal there. It will not happen once he lights the combine on fire. And not with the sudden super-premium placed on receivers. If we decide we can't resign Chark, then I'd definitely look to grab this guy. Especially with Jamo not clicking right away. Surprised he's not higher on people's boards.
Georgia took the lessons learned against Alabama and totally eradicated him from the game by being physical with him. His speed is legit and he's great at tracking the deep ball, but he's skinny and doesn't have the most fluid hips. He's really gonna have to work at not getting jammed in the pros. He was basically a slot receiver at Tennessee, he'll almost assuredly move outside in the NFL.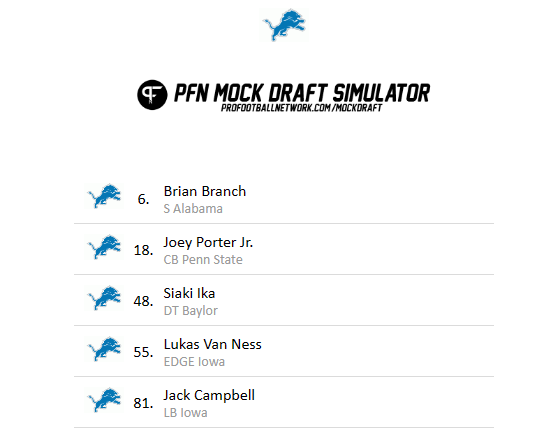 too much defense?
Nope…Not enough offense!
I think there's gonna be more emphasis on trenches…just a guess. I truthfully haven't seriously looked into talent yet @ all, so I don't even know what I think yet.
I expect OG & DT high.
I expect CB high & hope for RB high (first 4 picks)
That would be pretty special. A lot of juice up front. DL gets a LOT bigger. And the secondary gets two immediate starters. I absolutely love Brian Branch. He's going to be a star.
Gonzales will end up being the first DB taken. He's got good tape and once the underwear Olympics start he's gonna win those. I just wouldn't count on him being there at 18.
You may well be correct. He's more of a fleet footed finesse man cover guy who looks just as comfortable in zone reading the QBs eyes and making breaks on the ball. There will be a run on CBs somewhere early in round one. My personal favorite is Devon Witherspoon. He is so incredibly competitive and tuned up to 10/10 on the intensity. He is sticky in man. Plays a lot of slot, plays boundary, blitzes, crushes in run support and has plus ball skills. He can do it all. Love his athletic profile, and his demeanor. Gonzalez or Spoon would both be great additions. Cam Smith is my #3 CB, Joey Porter Jr is #4. What would be a stunner for the Lions is if they went DL at 6, then watched the top four CBs go off the board before their pick at 18. One option that is growing on me is grabbing Branch at 6 and taking the best CB at 18. But then my fundamentals kick back in and it's tough to talk myself out of going BIG in the top 10. Meaning if Tyree, Carter, Bresee, or Myles Murphy is sitting there it would be tough to bypass in favor of a CB
1,3,2
Love what you're thinking here. Bergeron flips inside to RG. Branch and Kerby would be so good together with Gonzalez and Jerry Jacobs outside. Bijan is so enticing. Been a long time since we've had a Ferrari in the backfield. With this OLine, BR might win OROTY.
Okay so disregard the picks. But teams were trade happy so I just had fun with it. Now this would never happen but in this particular mock this is what we ended up with for the 2024 draft.
DET 1st
ATL 1st
TB 1st
BUF 1st
NO 1st
DET 2nd
CIN 2nd
DET 3rd
MIN 3rd
BAL 3rd
ARI 3rd
BAL 4th
CHI 4th
NYG 4th
DET 5th
7 in the top 65! 11 in the top 100! haha
Then fun aside I still had to make picks for this year, so:
.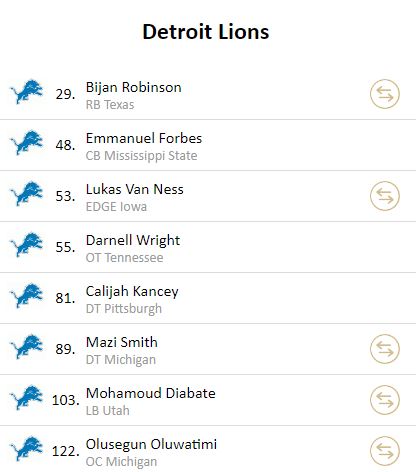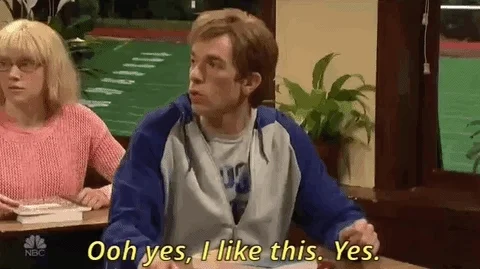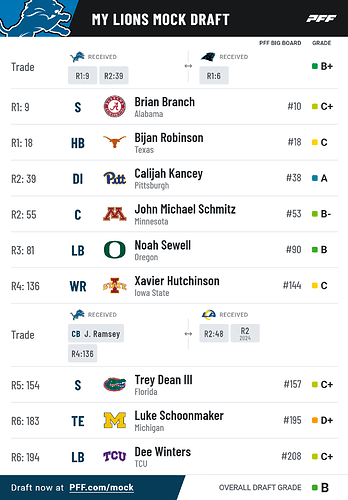 That is mine. The Panthers leapfrog the Raiders to get either Stroud/Levis and give up their 2nd in the process. Ramsey would step in as the #1 CB, leaving Okudah/Jacobs to compete for the other side. Branch would step in as the day 1 nickelback. Bijan is a game changer on offense, IMO. Kancey has a ton of upside as an interior rusher and is my next favorite DT for this team after Carter. Schmitz is a plug and play day 1 starter at RG. I love the idea of getting another Sewell. Noah was not the standout defender most thought he would be this year. I personally would take my chances on a high character, high motor player with very good athletic traits. He also brings size at LB'er that we don't currently have. Xavier Hutchinson would replace Cephus on the roster a s abig bodied WR that is very physical at the catch point, something we currently lack on this roster. Dean has starter potential down the line as a physical box safety. Schoonmaker can devlop into a top notch blocking TE, yet he still has enough athletic ability to be a realible 15-20 catch guy as your #2/#3 TE. Winters profiles as a core special teamer with enough athletic traits to carve out a niche on defense.
The two UM homer picks for me are
Olu the Center, not gonna try and spell it.
Schoomaker the TE, think the kid has some real potential to be a solid blocker and receiving TE. Depending on the rest of Detroit's draft, I would take him in the sixth for sure.
The problem is he's 25. How long are TE careers generally?
As a late round pick, does it really matter? If we drafted him in the 6th and he played out his rookie contract performing as a solid backup isn't that a win? I envision Luke having a Will Heller type of career.
Probably not, but it depends on how late he goes. Galko (the Shrine game director) says he could go at the top of the 2nd. He's hyping up a Shrine game participant for sure, but it's based off what he's hearing.